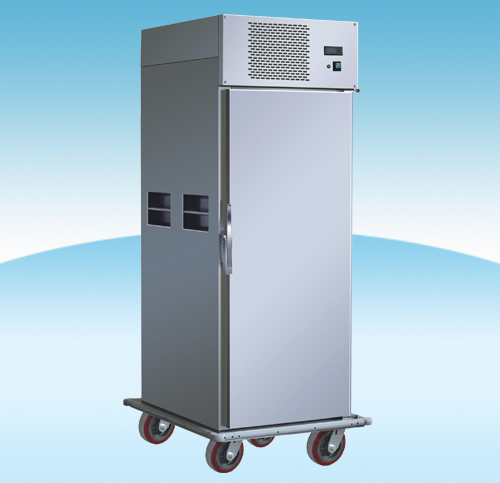 DHFL-11-21 Air-cooling Warmer Cart (1-door)
Energy saving & Reasonable design Employing the dedicated fixture optimization foam layer structure, it is one of the best refrigerators in the same industry of commercial refrigerator. It is of excellent heat preservation performance and favorable for selection of compressor. Selection of world brand compressor It adopts fully enclosed high efficiency Danfoss compressor, which is of…

Energy saving & Reasonable design
Employing the dedicated fixture optimization foam layer structure, it is one of the best refrigerators in the same industry of commercial refrigerator. It is of excellent heat preservation performance and favorable for selection of compressor.
Selection of world brand compressor
It adopts fully enclosed high efficiency Danfoss compressor, which is of low noise, stable application,large cooling capacity, reliable performance, as well as small volume.
Air-cooling system design
It is provided with Ebm high efficiency axial fan, which is of low noise, stable application, fast revolving speed with large quantity of air blowing that accelerates the speed of cabinet cooling to achieve the purpose of fast cooling.
Excellent fresh-keeping function
During operation, the average humidity of this product is higher than 75%, which makes it capable of retaining the freshness, nutrition and original taste of the food within certain period. The inner parts are made of high quality SUS304 material, which will not produce rust and at the same time is environment friendly and has the function of antibiosis.
Fully enclosed refrigeration system
It adopts bubble style door sealing joint strip with good sealing performance that blocks the air to come into the cabinet from outside and reduces the consumption of refrigeration quantity. It is energy saving and cold preserving.
Independent thermostat adjustable system
It uses the Elitech electronic thermostat, which makes it possible for the temperature to be regulated by the users according to their desire. All the parameters are set up at factory. Do not modify the settings arbitrarily.
Elegant appearance design
It is of elegant appearance with its attractive design while using premium stainless steel structure.
Model:DHFL-11-21
Dimension:796×980×1970
Average thickness of insulating layer:60mm
Settled temperature in the chamber:1-4℃
Working time ratio under ambient temperature of 32℃:0.6
Voltage:220V 50/60Hz
Total power:630±5%w
Refrigeration system:HFC134a
Charge amount:620g ,Refrigerating output:703w
Compressor model:SC15G
Volume:590L,Effective Volume:520L
Nominal power:4/8HP
Evaporating temperature:-10℃
Capillary tube model:inner diameter¢1.25mm,Length 1.5m
Refrigeration Method:Finned evaporator and air cooling